Third grade students from the Panhandle area have the chance to learn about health and wellness at the annual Nebraska Kids Fitness and Nutrition Day that was held in Sidney, Alliance, and Scottsbluff. This event is held in September with over 900 third graders participate annually.
Third-graders are a good age to work with because they are learning about nutrition and are influenced by role models. Some of the physical activities include stretch bands, Karate, boot camp, tumbling, Pound Fit, PIYO, Zumba, blind volleyball and yoga. Nutrition stations teach the youth about hand washing, healthy snacks and MyPlate, the new USDA standard nutrition guidelines.
The overall purpose of the event is to open the eyes of young people to consider energy balance ? how physical activity and nutrition work together to maintain health. It is said that if children can find a physical activity that they truly enjoy doing or an activity in which they excel, they may be more active and therefore more healthy in the future.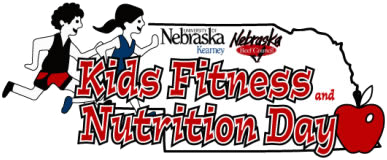 This activity is made possible by additional funding from the University of Nebraska at Kearney,
the Nebraska Beef Council and Panhandle Public Health District.