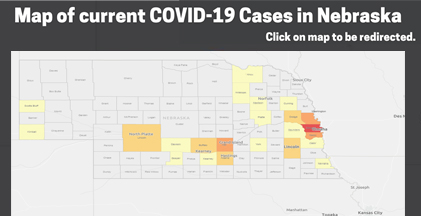 Panhandle Public Health District continues to monitor the unfolding COVID-19 pandemic to anticipate its impact on the Panhandle and our health systems.  This is an evolving situation with many unanswered questions. We will continue to communicate important updates to the public and our partners. 
Public Health Recommendations for Travelers:
Updated self-quarantine guidelines are being provided to anyone that has traveled or will be traveling outside the Nebraska Panhandle.
To limit spread in Nebraska, all travelers should self-quarantine for 14 days upon returning home and immediately report any symptoms consistent with COVID-19 infection to their health care provider. This means if you travel out of the Panhandle, you will be asked to self-quarantine for 14 days upon returning to the Panhandle with these exceptions: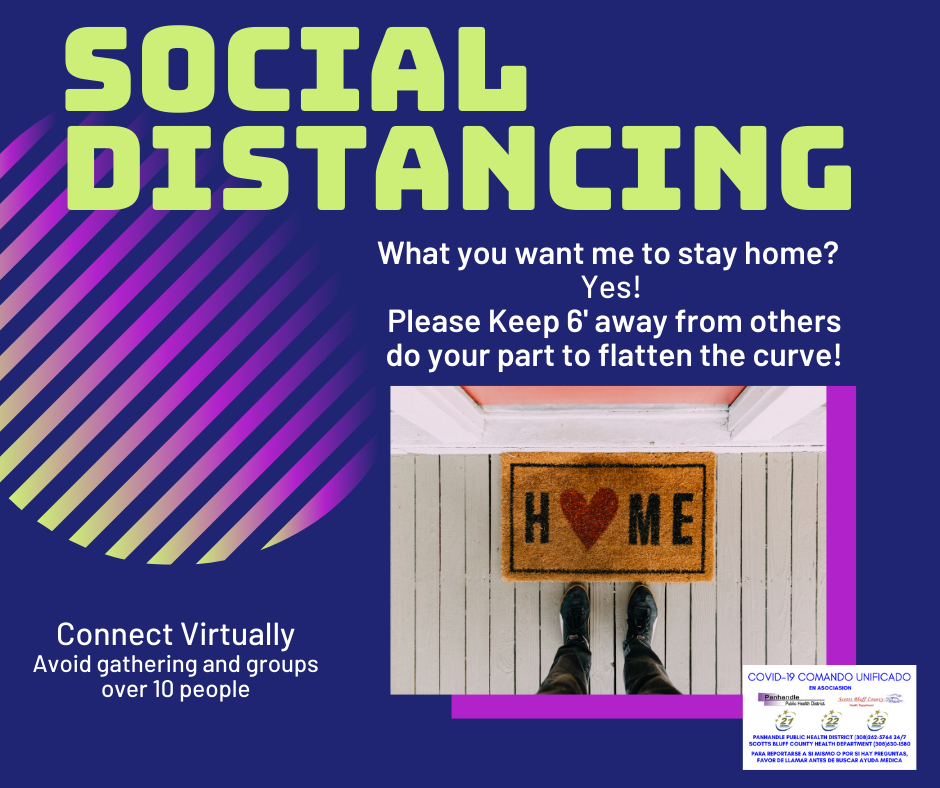 Residents that support the critical infrastructure of our community, such as truckers, are encouraged to continue to provide their vital services. When they are back in the Panhandle, they are encouraged to stay at their house (self-quarantine).
Traveling to and from work is understandable; the idea is to stay in the same community and practice strict social distancing.
Health care workers have different guidelines and should consult with a trained medical professional at their facility (infection preventionists or physician) and establish a specific infection control protocol such as self-quarantine, self-monitoring, wearing PPE while at work, etc., that mitigates patient and co-worker exposures.
Returning travelers should assume that COVID-19 disease is present at the locations they have visited and traveled through.
Self-quarantine guidance education.
To self report or ask questions please call Panhandle Public Health District: 308-262-5764 OR Scotts Bluff County Health Department: 308-630-1580
__________________________________________________________________________________________________________________________________________
COVID-19 Unified Command comprised of: Panhandle Public Health District, Scotts Bluff County Health Department, and Region 21, 22, & 23
panelists are providing a Daily Afternoon Briefing, weekdays @ 430pm MDT. Registration details can be found here: https://attendee.gotowebinar.com/register/2051154740783521293
__________________________________________________________________________________________________________________________________________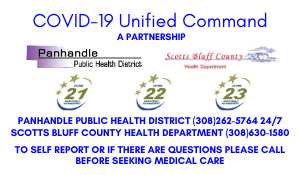 Resources
Businesses and Employers are Critical to help "flatten the curve." Find resources here
Resources at Basecamp https://3.basecamp.com/4076066/join/w4vDqkknshYt
Potential Community Exposure Sites
Directed Health Measure Statewide 4/3/2020
How to donate homemade masks and gowns to local hospitals
Recent COVID-19 Press Releases
4/8/20
National Guard to Conduct COVID-19 Testing in Kimball County on Thursday, April 9
Four New COVID-19 Cases in Scotts Bluff County Bring Panhandle Total Count to 21
4/6/20
Investigation Details Released to the Public, Adding Minimal Community Exposure Locations to the List
Avance detallados de La Investigación en Comunicado al Público, Se Agrega a la Lista Lugares de propagación/exposición Mínima
Updated Guidance to Area Essential Critical Infrastructure Workers
Provee Guia Actualizada para los Empleados Esensiales del Area
4 /5/20
Eight additional tests are confrirmed postive for COVID-19
Ocho pruebas adicionales se han confirmado como positivas para el COVID-19
4/4/20
No new test results received, updating information on previous cases
No se han recibido resultados nuevos, avance informativo en los casos previos
4/2/20
Current Positive Cases in Kimball County Warrant Concern with Health Officials

Los Recientes Casos Positivos en el Condado de Kimball Han Ocasionado una Orden de Preocupación entre los Oficiales de Salud
4/1/20
Panhandle COVID-19 Unified Command Announces Two More Positive Cases in Kimball County
El Comando Unificado del Panhandle del COVID-19 Anuncia Dos Casos Mas en el Condado de Kimball
Further Guidance on the Panhandle Directed Health Measure Issued by Governor Ricketts on March 30, 2020 and Turkey Hunting Restrictions
El Comando Unificado del Panhandle del COVID-19 Provee orientacion adicional acerca de la Directiva para las Medidas de Salud del Panhandle, dada por el Governador Ricketts el 30 de Marzo del 2020 y de las Restringiones Para La Caseria de Pavos.

3/31/20
Panhandle COVID-19 Unified Command Announces Two More Positive Cases in Scotts Bluff County
El Comando Unificado del Panhandle del COVID-19 Anuncia Dos Casos Mas en el Condado de Scottsbluff
Panhandle schools will be operating in an alternative learning environment for the remainder of the school year
Las escuelas del Panhandle estaran operando en un ambiente alternativo de aprendizaje por lo que resta del año escolar
3/30/20
Panhandle COVID-19 Unified Command Announces First Positive Case in Kimball County
El Comando Unificado del Panhandle del COVID-19 El Primer Caso Positivo en el Condado de Kimball
Panhandle COVID-19 Unified Command Announces Locations of Potential Community Exposure from Recently Confirmed Case in the Scotts Bluff County
El Comando Unificado del Panhandle del COVID-19 Anuncia Los Lugares Potencialmente Expuestos por el Reciente Caso Confirmado en el Condado de Scotts Bluff
3/29/20
Panhandle COVID-19 Unified Command Announces First Positive Case in Scotts Bluff County
El comando unificado Panhandle COVID-19 anuncia el primer caso positivo en el condado de Scotts Bluff
Proudly serving the Nebraska Panhandle Counties
Banner | Box Butte | Cheyenne | Dawes | Deuel | Garden | Grant | Kimball | Morrill | Scotts Bluff | Sheridan | Sioux